A Father's Day Feast At Home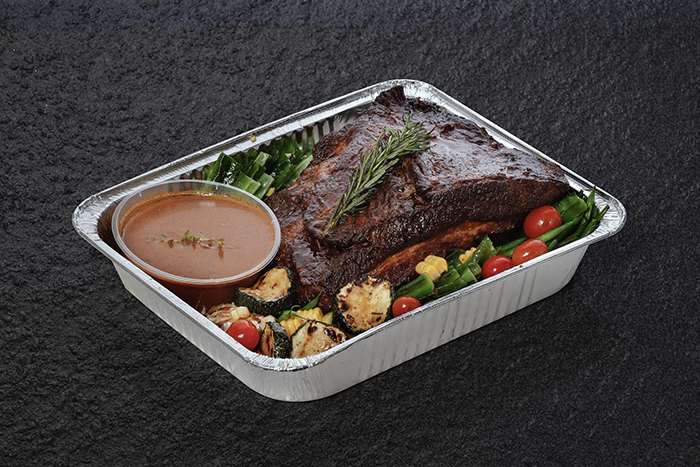 It's time once again to honor the man of the house! For Father's Day this year, what better way to celebrate dad than with a sumptuous feast? To help you with this culinary venture, we asked renowned caterers for some recipes to make or order and create a fun family feast for dad, right at home.
Cibo di Marghi
Pasta is easy to prepare and is sure to satisfy. Our dads love savoury, rich, hearty sauces, and a touch creamy burrata is a nice contrast to balance the potent ragù Bolognese. You may have this dish delivered from Cibo, or have a hand at making it on your own.
Cibo di Marghi is offering a special treat for Father's Day, with Bone-Marrow Crusted Roasted Australian Ribeye at Php 12,800 and Porchetta at Php 7,850. Each comes with sauces and sides, and a complimentary bottle of wine. Follow their Instagram page and browse through their menu for more offerings, and make your orders here. 
The Creamery Catering
Who wouldn't say yes to a delicious, scrumptious beef dish? Let's treat our dads to a simple yet satisfying meal to show appreciation for his love and hard work.
The Creamery Catering also boasts of an array of delectable meals. Some of their best sellers include the Signature Korean Style Beef Stew (Php 1,220), Famous Boneless Chicken Barbecue (Php 1,050), Baked Salmon in Garlic Cream Sauce (Php 1,030), and Eggplant Parmigiana (Php 740). For orders, you may contact Kath Andrada at 09171828811, visit their Facebook and Instagram pages, or join their Viber Community.
Florabel
Most dads are carnivorous in nature, and so a well-prepared Roast Beef dish is something they would always enjoy. Chef Florabel advises to serve it with side dishes that complements its flavorful, juicy taste.
A steak or roast dish makes any dining occasion feel festive, and adding a salad or pasta dish makes it a meal to remember for the whole family. To see more of Florabel's offerings, visit their Facebook and Instagram pages, or website.
M Catering
Fathers are known to always be busy in ensuring that their family is taken care of, so every meal shared with the family is a celebration on its own. A simple yet flavorful meal like Paella is something that dad would surely enjoy together with everyone.
No time to whip up this delicious meal on your own? Order it ready to eat for PhP 1,800 from M Catering, and add their Truffle Beef Belly with Mushroom Truffle Cream (PhP 1,380) to complete the feast. Visit mcatering.ph/ for their full list of offerings, or follow their Facebook and Instagram pages.
Mesclun
Most if not all dads love barbecue! The concept of barbecues for family bonding is very popular especially when your house has a backyard or garden. Combining the smoky flavors with some sweetness in this savory dish is always a great treat for dad, especially when paired with sides of their choice fresh off the grill.
          
Mesclun's offering a Father's Day Barbecue Feast which includes Buffalo Balls and Swiss Chocolate Cake on mesclun.ph/mesclun-to-go for PhP 3,500. Mesclun welcomes pre-orders and accepts same day delivery until 3PM, as well as Ready to Heat orders on growcerymnl.ph. For more inquiries, please contact 0977 802 3900.
Matchpoint
Dads usually look forward to food that they can only eat during special occasions, ones that take a lot of time and love to prepare. A Roast Beef Strip Loin served with Garlic Scented Mashed Potatoes, Herb Buttered Vegetables, and Madeira Mushroom Gravy need to be prepared ahead of time, and will definitely make him feel extra special. 
Matchpoint highly recommends ordering this dish, as well as their Pastel de Lengua with Confetti of Diced Vegetables and Cheddar Gouda Crust—which isn't usually offered in small batches. Contact them for orders through their Facebook and Instagram pages.
Enjoying good food and discovering new dishes is a simple luxury that dad—and the whole family—will surely enjoy. Whether you're celebrating a special occasion like Father's Day or simply in want of a delicious ready-made meal, our partner caterers are ready to serve anytime with their delicious offerings.